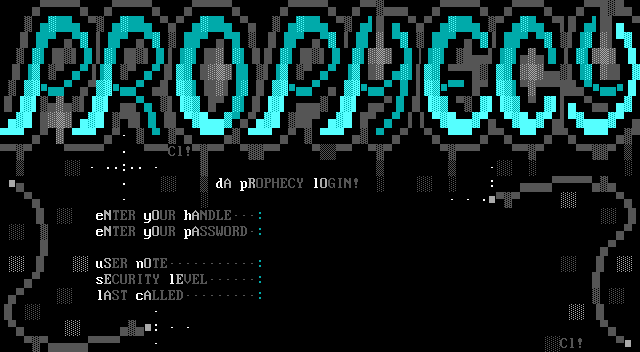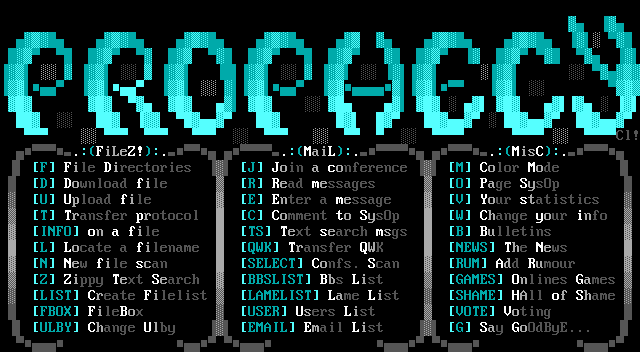 This page is dedicated to my BBS system, called "Da Prophecy", which was running from June 1997 to December 1998. BBSes were privately ran computer systems offering message bases, files and online games, accessible by a modem over a standard phone line. My system, oriented in Demoscene, Art, Music and Coding, was mostly a message board with very active local conferences. If you want to check how the board looked like back then, you can download an archive containing all the art drawn for it, along with BBS Intros and various adverts. You can also download the BBS Intros individually: BBS Intro #01 (Video) coded by Arrakis (November 1997) and BBS Intro #02 (Video) coded by ONC (April 1998).
I got my first modem on May 29th 1996 and started calling BBSes in my local area from that date. The first BBS I ever called was "Morte Lune", on May 30th. In April 1997, I started to call long distance boards and discovered my first scene BBS: "Dream Mountains", which was running a wicked PCBoard setup with awesome ansis. I was also a frequent user of these fine scene boards: "Data Crawler", "Divide By Zero", "Equalizer" and "Planet Mars", all running very nice looking PCBoard setups. Over this time span, I've made a lot of contacts and experienced the global dynamism and attracting effect revolving around those underground communities, which eventually made me join the scene and take part in artscene and demoscene.
For files and resources about the French BBS Scene, you can check the (French) BBS and Minitel Archives.
If you are interested about BBS history, Jason Scott of textfiles.com released a 3 DVD box documentary called "BBS Documentary". Here is an interview from him, explaining what the documentary is all about. The documentary is now available on the Internet Archive, and the original DVD images are also freely available for download.
Lastly, you can also listen to "Paging system operator" from the late nineties band Barcelona, released in 2000 on their "ZeRo-oNe-INFINITY" album to complete the journey.